Achievements
MI-NE's Achievements
Since our foundation, we have been dedicating ourselves to supply products which are suitable for contemporary needs. Safer, more environmentally friendly; with flexible mind and never-ending R&D, we are confident that we contribute railway industry. We are not satisfied our current position, but would like to play a greater roll with our upcoming technologies and products.
We herewith introduce our major achievements.

Research and Development of the Pressure-Welded Crossing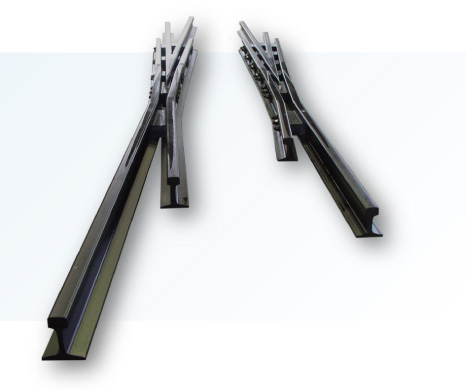 12,994units * as of January 2020
In his inaugural address in January 1975, our second president, Kanichi Mine, publicized his intention of developing MI-NE's ingenious integrated crossing by a new method as well as gave instructions to "go ahead of the times." A product completed 10 years later was named pressure welded crossing and was installed for testing in the premises of the Kokura Station of the Kagoshima Main Line and Nippou Main Line in March 1985. Since then, featuring integration, durability, weldability and flexible geometry and dimensions, it has been tremendously contributing to high-speed railway.

Track expansion equipment for buffer girders
Development and installation of track expansion equipment for buffer girders at Honshu-Shikoku Bridge.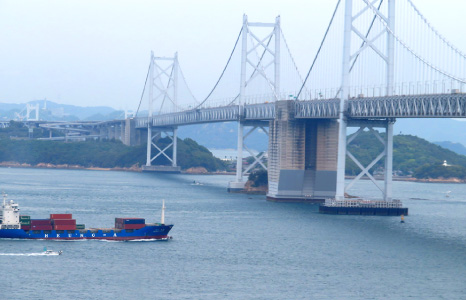 We joined in development, design, manufacture and test run of world's first track expansion equipment for buffer girders. Since it has taken into account everything such as deflection, etc. from a design viewpoint and is expandable by +/-750 mm, it is called 1500 type. In the test run conducted with 9 EF-Type electric locomotives in tandem, a margin of 1,500 mm was confirmed relative to design. On April 10, 1988, it was opened for business as the Seto Ohashi Line (Hon-Shi Bisan Line).

Tanegashima Space Center Special turnout for H2 rocket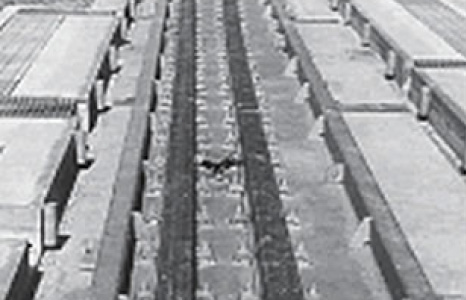 Manufacturing and installation of the world-largest turnout.
A mobile launching pad for fully domestic rocket H2 was a special turnout and we were in charge of its manufacture and installation, and welding of rails.
The special turnout has connected two 100kg rails, straight and branch lines, in a concrete frame for both outside and inside rails, and switches the concrete frame itself.

Engaged most welding work at Seikan Tunnel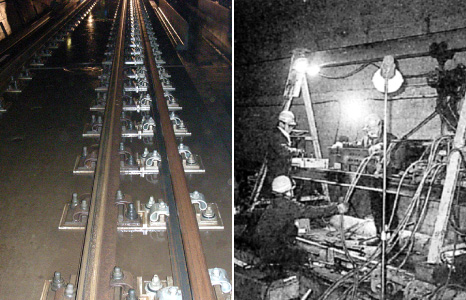 52.57km of continuously welded rail at Seikan tunnel
The Sei-Kan tunnel connects between Yoshioka Entrance on the Hokkaido side and Tappi Entrance on the Honshu side under the Tsugaru Strait. The world's longest rails are installed in the tunnel. We were in charge of a majority of their welding, uniting Honshu and Hokkaido with the rails. The tunnel was put to service as the Tsugaru Kaikyo Line on March 13, 1988.

Development and installation of resource-saving "Steel sleepers turnout"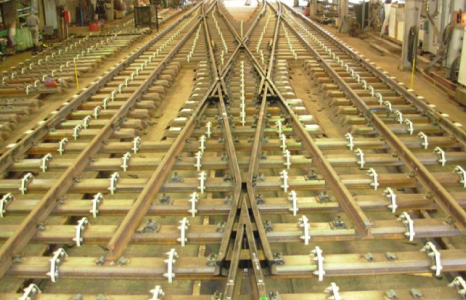 1,277pairs * as of January 2020
Because of shortage of woods, this turnout uses environment-friendly, resource-saving sleepers, making use of iron which is recoverable after being scrapped. It has high assembly accuracy, almost free from track irregularity. The track section and switching section of the turnout have been also greatly freed from maintenance.